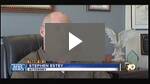 San Diego, CA — A civil lawsuit has been filed on behalf of four alleged victims of sexual abuse against the Rock Academy.  Four students were allegedly abused by a former teacher at Rock Church Academy school.  The suit claims that the Rock Academy failed to protect the children and did not report the abuse as soon as they became aware of it. The alleged abuse took place during movie time.  The teacher would put his hands up the student's shirt and rub the inside of her legs and bottom. The families of the victims said that a teacher walked in the class during movie time and saw what was happening.  That teacher reported it to the school, but nothing was done until almost a year later. Pastor Miles McPherson made the following statement:
"This is a deeply disturbing situation that has transpired over the course of the last two years. It's a sensitive story because it impacts children, parents and teachers. 

In February 2010, after reports of a breach of Academy protocols by the teacher, the church confirmed the behavior and his employment was promptly terminated. The church also immediately forwarded the information to the San Diego Police Department."
An investigation has been completed by the San Diego Police Department and is now in the hands of the District Attorney's Office. The teacher in question also worked at Horizon Christian Academy in San Diego.
Attorneys Estey & Bomberger are representing the families in this lawsuit.